About
Here at Diggin' It we're about 'sowing the love'!
The store was opened in the summer of 2010 by owner and longtime McKinney historical district resident Tracey Collins, who envisioned owning a fun and funky retro-styled garden boutique near the vibrant McKinney town square. However, the store has always leaned towards the bright side, seeking not only to serve those who already have a knack for gardening but to attract those who, like Tracey herself, appreciate the positives in life.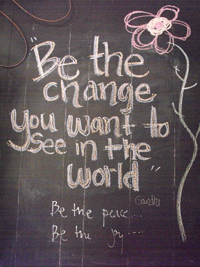 To that end Diggin' It is not only a boutique, but a place of learning and community. Many of the store's wares are proudly handmade by local artists. The store is the site for a number of year-round classes and seminars taught by local gardeners, crafters, and more, who are ready and willing to share their guidance. Diggin' It also hosts other events including yoga classes as well as a meditative drum circle, welcoming any who are willing to share positive experiences.
Tracey is also a firm believer in protecting and sharing the history of the Diggin' It building itself, which was formerly a Greyhound bus depot in its past life!
Drop by soon to share in the fun at Diggin' It.